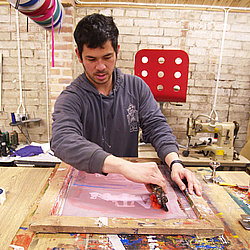 Welcome to Stabo; we are a designer/maker partnership. Ros started making blouses to sell at Portobello Market in 2001 and Ed joined in shortly afterwards. Since then we have had numerous adventures with Stabo travelling from New Zealand to Norfolk and many places in between. Now we are firmly ensconced in Cambridgeshire working from home surrounded by our family.
Our focus is on accessories and clothing but we're always trying to push the boundaries, develop new ideas and experiment with different techniques and materials. We love the versatility of screen printing which has long been a mainstay of our work but each year we introduce new ways of mark making and originally designed products.
Our work has the imperfections and charm of the handmade. Stabo products are made with care and individuality rather than the bland uniformity of a production line. We initially print all our screenprinted items with wooden screens we've made ourselves and have an eccentric, ever growing collection of tools and machines. Anything not made in our studio is made in the UK. We also take great care in the sourcing of our materials as we know how important quality is.
The benchmark for us is developing products we want to use ourselves and hope you enjoy them too.