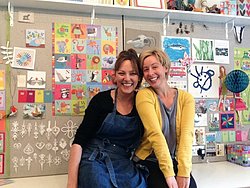 Here at Kali Stileman Publishing we produce brightly coloured design led greetings cards and wrapping paper with a sense of fun for children and the young at heart. We are a small independent company based in Dorset, founded by illustrator Kali Stileman.
We have lots of great children's number ranges and cards with everything from super heroes to pirates and ballet dancers to hobby horse riders. We also have a fab Welsh language range.
We are very proud of our super thick quallity gift wrap, choose from over 30 designs and we have a number of poster wrap designs too. They look great in a frame on a child's bedroom wall.
Look out for our ever growing range of personalised bubble cards, we have over 70 designs and they look really special when children write their own messages on them!
Brighten up a child's bedroom with our very popular height charts. They are made in the UK from the highest quality ultra-thin removable vinyl.
We are very excited about our latest product, enamel mugs that can be personalised. Lots of designs to choose from!
All artwork is created by illustrator and childrens author Kali Stileman, who specialises in printing and collage.
We sell across the UK and have distribution across the world.