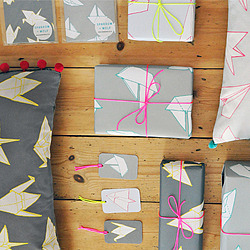 We are a Birmingham based stationery and homewares design studio. Sparrow & Wolf launched in 2013, making an incessant doodling habit into an international enterprise.
Stocked in prestigious locations from Tate & Selfridges in London, to Seoul & Western Australia, their products are proving popular around the world.
Born from a love of illustration, texture, colour & having fun with design, their range of stationery and cushions are suitable for any design lover.
Focus is on modern luxury touches such as plump duck feather cushions, gold and silver foil, neon pops of colour & fun design elements. Fun icons such as origami cranes and raindrops adorn their range.
Inspiration comes from the miserable British weather, and the desire to make something beautiful from the gloomy autumn days.
All products are designed and produced in the UK to support UK industry and reduce carbon emissions.
They use eco friendly printing and manufacturing methods wherever possible. All papers are recycled and from FSC certified forests.