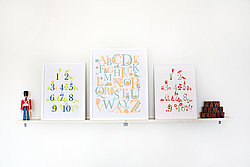 Welcome to Spann & Willis: printed cards, posters and paper goods. The company was started in early 2012 by photographer and designer Maria Spann.
Spann & Willis was born out of a lifelong passion for typography, illustration, stationery and all things hand-printed. We love the slight imperfections and happy accidents the art of screen and block printing so often brings.
Born and bred in Sweden, Maria's main inspiration is Scandinavian children's illustrations from the 1960s and 70s and she has an ever-growing collection of fabrics, books, games and prints from this era.
All products are designed and hand printed by Maria in her London studio using water-based acrylic inks and finished off in black ink pen. Wherever possible we make sure to source environmentally-friendly materials.