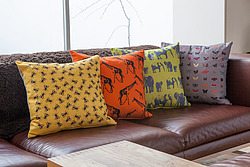 Helen Moulinos and Daniel Stent set up Space 1a Design in 2011 to celebrate curious contemporary design and promote sustainable production. The award-winning home collection is inspired by the natural world and includes wallpaper, cushions, lampshades, bedding, glassware, ceramics, furniture and kitchen accessories for you and your home. Space 1a uses sustainable materials and UK based manufacturers and suppliers wherever possible, doing our bit to protect the environment and keep artisan skills alive in Britain.
We proudly sell our imaginative products to customers and design shops internationally. Passion for our products and respect for the world around us motivate us every day to deliver high quality colourful products to you and your customers.
As contemporary designers, we are constantly inspired by the world around us. For this reason, it is important to us to keep this world as pristine as we can, so that all the things that inspire our creative processes now, can still be there for the next generation.
Taking this responsibility seriously, Space 1a endeavours to run a sustainable business – minimising our impact on the environment and working with partners and suppliers who share our values. As such, we are committed to the following practices:
Manufacturing locally in the United Kingdom wherever possible and local European manufacturers only if manufacturing outlets in the UK fitting our ethos do not exist, thus cutting the carbon footprint of our organisation and, in turn, our products.
Regular review of our supply chains to ensure products travel by road wherever possible and optimising distance our products travel.
Using environmentally-friendly materials such as recycled glass, FSC-certified wood and wood composites, organic fabrics where available. Fabric printing with low toxin inks to help reduce contamination of the natural environment around us
Designing our product patterns to minimise fabric waste during cutting process. Ensuring that almost all of the fabric we produce is used responsibly.
Re-using fabric remnants within our manufacturing to make other products. Turning any necessary wastage into a positive.
Working with suppliers who source materials without disrupting natural or protected habitats. Voting with our feet as to how our suppliers should work
Minimising packaging wherever possible to reduce wastage associated with our products.
Recycling packing materials and cardboard boxes where they are in good working order to reduce wastage in our organisation.
Separating and recycling waste from our studio and warehouse so that the bare minimum of waste is created.
Visiting our suppliers regularly to ensure working conditions and practices fit within our ethos, and ensuring that our good suppliers never change their ways.
Making lampshades by hand with no machines – rolled edge the old-fashioned way.
Travelling where possible on foot, bicycle or public transportation and operating a fuel efficient vehicle when use of an automobile is required.