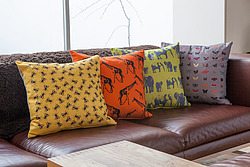 We set up Space 1a Design in 2011 to celebrate curious contemporary design and promote sustainable production. The award-winning home collection is inspired by the natural world and includes giftware, wallpaper, cushions, lampshades, ceramics, furniture and kitchen accessories. We are an independent design business which is family-owned and run from our studio located in the vibrant East London Walthamstow community in the former headquarters of a British Toy company. Space 1a uses sustainable materials and UK based manufacturers and suppliers wherever possible, doing our bit to protect the environment and keep artisan skills alive in Britain.
The products within this collection are made locally in the United Kingdom & Sweden using eco-friendly materials such as Organic Cotton, Phthalate-Free laminated Cotton and FSC-Certied Wood and sustainable manufacturing methods.
The conversation-starting designs are vibrant, contemporary and sustainable respecting the environments, animal habitats and economies the products and raw materials are sourced from. We do not mass produce our products and take great care to work with partners who mirror our values and sustainable ethos. Our lampshades are still handmade in our East London studio - hand cut, rolled and made to order.
We proudly sell our imaginative products to customers and design shops and our products are regularly featured in British and International Press leading trends in Home and Gift. Passion for our products and respect for the world around us motivate us every day to deliver high quality colourful products to our customers.