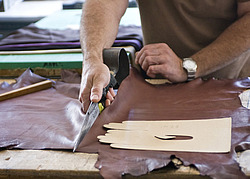 Beautiful, handmade leather gloves for women and men.
Southcombe Gloves is a family business. Currently run by David and Caroline Southcombe, our family has been making gloves here for over 167 years! Based in the Somerset countryside, we have a wonderful team of dedicated, long-serving staff. One of the few remaining Somerset gloving businesses, we have been designing and making gloves since 1847 and are proud of our reputation for quality, style and great customer service.
We use the best materials for our gloves - butter-soft gloving leather, table-cut to ensure a great fit, with linings made from cashmere, wool, silk and pashmina. A huge proportion of our customers return again and again to buy from us because we supply gloves of a quality that is very hard to find on the high street. Our gloves are addictive!
Choose the gift box option for a beautifully solid, smart black glove box with gloves wrapped in periwinkle blue tissue paper.