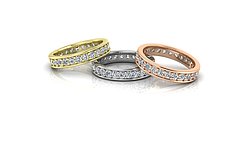 I set up Soremi (its half of my surname) over ten years ago, my main aim and goal being to create expertly crafted jewellery which was not only beautiful but also incorporated the sentiment behind the piece and its significance, and so the hand punching began!
Our trademark hand punched jewellery, both the classics and the quirkier pieces all bare our hallmark hand pushed lettering making each and every piece of jewellery we make a total one off.
We have been lucky enough to have seen our customers families grow over the years and been privileged enough to have made jewellery to commentate all their land mark moments and for that we are beyond thankful. If there is something you would like that you have seen or would like to have some bespoke jewellery made then we really are a rather friendly bunch so please do get in touch if you fancy a chat (about jewellery, but happy to chew the fat too).
Ghazal (and her little team) xx