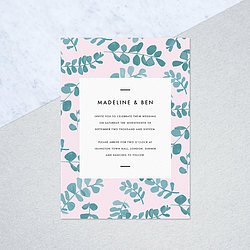 I am a designer and illustrator creating original ceramics, textiles and bespoke wedding stationery. My work is inspired by a love of colour, pattern, midcentury design and good craftsmanship. I am proud to work soley with British suppliers to create well made pieces that are long-lasting and useful around the house, as well as stylish.
All my ceramics are fine English bone china, hand decorated in the traditional potteries of Staffordshire. My wedding stationery is tailored to your own requirments and printed here in London on lovely matt white recycled card.
I launched my first collection in 2012 after studying for an MA in Graphic Arts and I continue to work as a designer in the creative industries, endlessly inspired by the world of design. My work has featured in Vogue, Country Living, The Guardian, The Independent and Print & Pattern.
I am happy to answer any questions and love to hear from customers so don't be shy! Happy shopping x