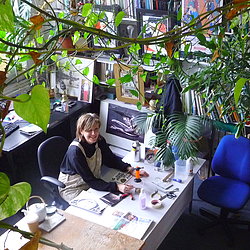 Welcome to my online store Sophie Hutchinson Designs (S H D) - I'm Sophie. I live in Hertfordshire with my husband Michael and our young daughter. I've been designing and creating jewellery for many years now and love every moment - dividing my time between my studio in Clerkenwell (Hatton Garden) and Hertfordshire.
In the 1980s I studied in London where I was inspired by the creativity and philosophy behind New Wave and New York Arthouse – from Velvet Underground to Susie and the Banshees to Vivienne Westwood - culture with a twist of lemon – an edge that said rebellion, flaire, independence. So my past has influenced my designs - I just loved the Alexander McQueen's Savage Beauty exhibition at the V & A last year.
The collection aspires to evoke sophisticated retro and vintage qualities blended with a modern steampunk edge. These cutting edge designs are sealed in clear resin applied by hand in many fine coats to create a domed effect - this enhances light reflection and provides the pieces with an exquisite three-dimensional quality.
These beautiful and exclusive pieces make striking and enchanting gifts for you, your family, loved ones and discerning friends. Our 5 star service will provide all sorts of extras with a package built on customer empathy, trust and kindness. We can provide personalised items of every kind – just contact us - with a fast turnaround and gift wrapping.
So why not browse through the Sophie Hutchinson Designs gallery – it's for you.