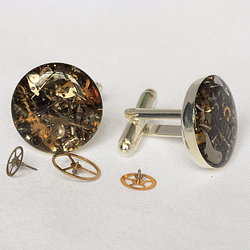 Welcome to my online store - I'm Sophie. I live in Hertfordshire with my husband Michael and young daughter Iona. I've been designing and creating jewellery for over 5 years now and love every moment - having escaped from the legal PA world – hooray!
Here you'll find an exclusive range of hand-made jewellery. The collection aspires to evoke sophisticated retro and vintage qualities blended with a modern steampunk edge. The range includes cufflinks, rings, bracelets, necklaces and many other 'one-off' pieces. These cutting edge designs are sealed in clear resin applied by hand in many fine coats to create a domed effect - this enhances light reflection and provides the pieces with an exquisite three-dimensional quality.
These small but unique, bespoke pieces make beautiful and engaging gifts for you, your family, loved ones and discerning friends. With Christmas just around the corner why not browse through the Sophie Hutchinson Designs gallery – there's something for everyone.