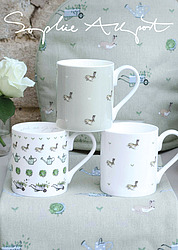 Sophie Allport produces fine bone china, kitchen and home textiles, oilcloth and stationery all inspired by her love of nature and the countryside. Sophie was brought up in Potterhanworth, just oustide Lincoln and was at school in the city. She later went to Leeds University where she graduated in 1994 with an impressive first class honours degree in Graphic Art and Design, specialising in Illustration.
Sophie's brother Jem joined her in 2007 and Sophie Allport Limited was born. As a qualified chartered accountant, Jem has supplied the business acumen and drive to expand sourcing and sales of the Sophie Allport range, leaving Sophie free to focus on design and product development. The business is based just outside of Stamford, Lincolnshire and employs family members including Jem, Sophie, their mother Mary, Jem's wife Chloe and a couple of family friends and now some friends of friends too!
All the Sophie Allport china is 'fine bone china' and is hand decorated and finished in Stoke on Trent in the UK and comes in a smart gift box. Products in each range include dinner plates, sideplates, pasta bowls, cereal bowls, mugs (2 sizes), jugs (4 sizes), egg cups, tea cups and saucers (2 sizes), jam jars, espresso cups and saucers, teapots (2 sizes) and tea tidies. The fabric collection includes tea towels, oven gloves, aprons, notice boards, cushions, tablecloths and much much more! Our matt oilcloth makes a brilliant tablecloth and the range of purses and bags are both practical and stylish. Other homewares include Tinware, Placemats & Coasters, Dog & Cat Bowls, Scented Candles,. Gift Wrap, Ribbon and Stationery.
Sophie's key collections include Chicken, Labrador, Terrier, Rose, Busy Bee, Stag, Cat, Pheasant, Gardening and Swallow.