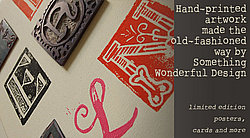 Music and travel inspired art, made using the good old-fashioned printmaking methods of linoprint and letterpress.
In this digital world, a handmade print personalised to your exact requirements is a very special thing. From the best-sellling and original sheet music poster, to prints of bikes on hand drawn bespoke maps, Something Wonderful Design has been bringing beautiful and unique prints to customers since 2010.
Run by Kim from her studio in Hertfordshire, Something Wonderful Design is inspired by vintage advertising, railway posters, the city and the seaside. The artwork is unified by a love for typography and colour, and is all handmade. Her prints have been featured in a beautiful book by design publishers Gestalten, included in many magazines including Country Living, as well as shipped to happy art lovers all over the world.
In the words of the most important people, the customers: 'beyond perfect', 'an extra special personal gift' and 'service was amazing and delivery super fast. Would recommend! Just away to order another'.
Something Wonderful: modern design, using traditional techniques.