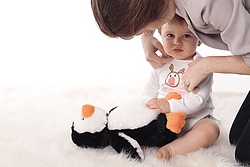 As a new father of a wonderful little boy (Tom), I was looking for cute and original items of clothing for him and couldn't really find what I was looking for, so I decided to make some!
Friends, family and people who met Tom at baby events loved what he was wearing and wanted to know where we got them, so I decided to start making and selling some of the things I had made for him. And so Something for Daisy was born.
Why Daisy and not Tom? Because Daisy was our chosen girls' name when we were expecting Tom and didn't know we were having a boy, and because I like it!