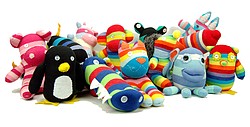 Sock Creatures are a British-based company who produces sock creature craft kits from our shop in Cornwall.
We started by producing create your own sock monkey kits but have since developed a range of creatures, and four years later we now have a huge selection of creatures to choose from!
Sock Creature Kits are the perfect gift for crafty children and adults alike! Children under 12 may require adult supervision, making it the perfect activity for younger ones with an interest in sewing to do with Mum or Dad. Could also be made and given to a loved one to treasure forever.
Happy Sewing!