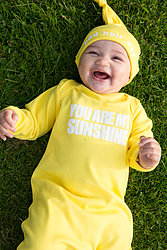 Snuglo makes super cool clothing and accessories for baby and kids. Original, cute and witty designs incorporating Snuglo's distinctive graphics and trademark use of colour.
All Snuglo clothing is made in the UK supporting fair labour practices and local maufacture. All 100% luxury cotton and machine washable. Snuglo's soothers are made to the highest quality and standard in Sweden, are suitable from birth, come in their own exclusive snuglo packaging and comply to European standard EN-1400.
Snuglo's mission is to create colourful, fun yet functional products for the modern baby and child and to compliment the happiness of those precious first few years!