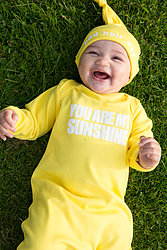 Hello, welcome to Snuglo™. Snuglo makes super cool clothing and accessories for baby and kids. Original, cute and witty designs incorporating Snuglo's distinctive graphics and trademark use of colour.
Combining Snuglo's distinctive witty words and graphics, trademark use of colour and finest quality materials, our original, funny baby clothes are designed to complement the fun and happiness of little ones' precious first years.
Made from the finest, purest cotton, our funky baby clothes are super soft, yet tough enough to handle any amount of rough and tumble kids throw at them. They can also be washed time and time again without compromising colour or shape. Importantly, all our cool kids' clothes come with easy fastenings and poppers, making change time a breeze for pooped parents.
Snuglo™ is also proud to be 100% sweatshop free. Our baby clothes and accessories are designed, produced and hand printed in the UK, allowing us to keep a close eye on quality whilst supporting ethical labour practices, local manufacturing and employment – all things close to our heart. All Snuglo clothing is made supporting fair labour practices and local maufacture. All 100% luxury cotton and machine washable. Snuglo's soothers are made to the highest quality and standard in Sweden, are suitable from birth, come in their own exclusive snuglo packaging and comply to European standard EN-1400.
Snuglo's mission is to create colourful, fun yet functional products for the modern baby and child and to compliment the happiness of those precious first few years!