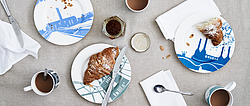 Snowden Flood is an interior accessories designer based in London.
Her work celebrates urban and rural landscapes through an ongoing exploration of the theme of souvenirs and keepsakes. Themes in her design include iconic city landscapes such as the London bridges and landmarks in her River Series collection of mugs, plates and linen.
Her aim is to produce colourful and beautiful products for the home that one day will be heirlooms people will treasure and pass down. Wherever possible she works with British manufacturers which keeps the quality of her product very high, while supporting UK business following an age old tradition of craftsmanship.
Her ceramics and glass are handmade in small batches in Stoke, the home of the potteries.