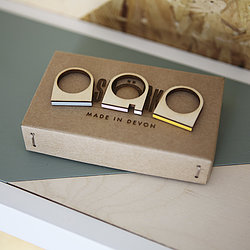 We at SNÖRK are a husband and wife team working out of our little workshop in south Devon. This year we are all about ply, it's true we've fallen in love with this fabulous material and are constantly amazed at what we can do with it.
+
Designing, making and hand finishing all our products, we aim to bring real personality to our work, each object being slightly different and full of charm. Our work draws upon the geometric coupled with folk art to create pattern and colour, functionality married with beautiful designs.
+
We love what we do and hope you do too.