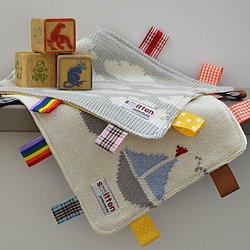 Smitten creates handmade, contemporary knits for babies and children that are fun, colourful and knitted with love.
Founded by knitwear designer Rosie Ward in 2009, Smitten specialises in knitted blankets and comforters, combining bold colour, stimulating texture and handmade quality in every product. All lovingly handmade in England.
Smitten products are knitted with luxuriously soft 'Baby Bamboo' 80% bamboo 20% wool. The wool content adds warmth to the yarn, whilst the eco-friendly bamboo fibres give it an incredibly soft and gentle handle.
Across the collection Rosie has combined bold knitted components with carefully selected woven fabric to give a contemporary twist to tradition baby and child essentials.
Perfect if you're looking for a unique gift for a new arrival or something special for your little bundle.