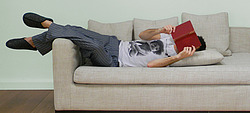 We specialise in men's slippers that provide a modern alternative without compromising on comfort, fit or quality.
As footwear experts we ensure our slippers are designed to follow the anatomy of the foot, making them super comfortable and easy to wear. The felt linings are 50% wool and 50% polyester, giving you a wonderful warm natural feel. Soles are made from hard wearing EVA, a lightweight and durable material often used for trainers, that can be worn both indoors and outside. Our slippers are very easy to clean and will even survive the washing machine.
At a weight of 370g a pair, our slippers are so light you will hardly feel them!