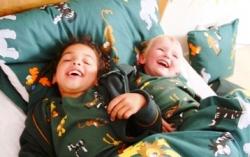 Based in the beautiful South Derbyshire countryside, Sleepyheads is a British designer-retailer of children's duvet covers, children's bedroom curtains, children's bedroom furniture, children's lighting and children's pyjamas plus a beautiful range of inspirational toys and personalised gifts.
Our History
Our story began in 2003. At the time; I was enjoying a long and successful career in the childrenswear and soft furnishings industries, working as a retail buyer. As exciting as my job was, I longed to work with small UK manufacturers and craftspeople that produced more personal unique gifts, rather than large multinational companies who supplied run of the mill products in quantities of tens of thousands.
So in 2004, I resigned from my role as a retail buyer, and set out on a mission to create a small British business that offered a stylish, inspirational and fun range of affordable products for children's rooms. Furthermore, I wanted a to create a company that made its customers feel welcome and valued, and which provided a shopping experience that was second to none – after all, our business is nothing without our customers, and you therefore deserve to receive the very best possible service.
We work hard to offer our customers an inspirational collection of fabulous products with something to suit every little boy and girl. From children's duvet covers and lighting to children's bedroom furniture and personalised gifts, we offer busy parents a complete decorating solution to ensure that their child's room will be truly memorable.
I am delighted that you have chosen to look at our product range, and hope that we can help you find something extra special for the little ones in your life. Please don't hesitate to get in touch if you require any assistance at all.
Claire Hynam, Founder