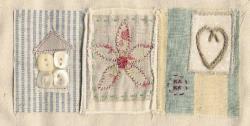 skybluesea, established by textile artist Suzanne Harulow, provides a treasury of unique handmade textiles which are available as gifts and art pieces. Inspiration comes from a love of things with a vintage country feel, the sea, natural materials and old family mementos.
Items often include 'rescued' clothing, buttons and jewellery. Each textile piece is unique; no two pieces will be exactly the same because of the hand stitch detail, plus the fact that many of the fabrics used are found in small quantities.
Her work ranges from small hangings to larger scale bespoke items. Many are ideal as gifts for christenings, weddings, birthdays and all can be personalised. Please contact Suzanne for details.