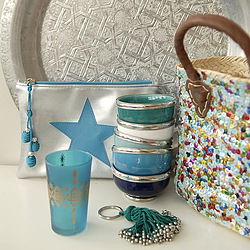 Our inspiration behind SkOURA came from a lush palmgrove on the old trade routes in Southern Morocco. The merchants caravans used to carry and trade items from all over the world and introduce new goods on each of their travels.
We now carefully select local Moroccan artisans to bring to our customers century old skills in unique products.
We also look for those special products from further away or closer to home, whenever we encounter an interesting tradepost.
We are trying to bring objects that will brighten your home, from bowls with silver rims, silky tassels, vintage tea-trays, decorated tea glasses, scented candles, embroidered cushions, unique stationery, leather goods, recycled glass and more.
Every object we sell is different as they are handmade and carry their own personality, and they are all a reminder of a journey.