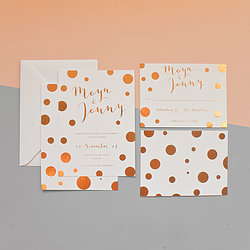 With a background in graphic and textile design, Skinny Malink provides stationery and print design for style conscious individuals and couples.
If you're on the search for artwork that is original, striking and custom-made for you, then look no further. The Skinny Malink stationery collections' feature a wide range of original designs that can be personalised for each individual.
We offer printed, foiled and embossed contemporary wedding stationery; artwork and cards for any occasion.
All of our stationery is handmade in Scotland's capital city, Edinburgh and we ship our wares worldwide. We pride ourselves in delivering great customer service and thrive to keep our customers informed of every step of their order.