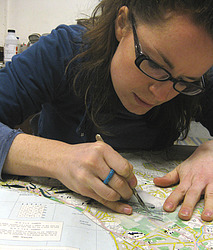 Hi I'm Vanessa and welcome to six0six design.
I honestly don't think there was a time when I wasn't a maker. As a professional I set up my design business in 2011 but as far back as I can remember I have been making things. Some of the most vivid memories of my childhood are of playing in my dad's workshop, turning off cuts of timber into towns. Having an idea and the process of turning it into something tangible is one of the most satisfying feelings that you can have.
I design and make all the items in my shop from my studio in a little village in Co. Kildare, Ireland
I work with paper and a vast array of vintage materials. Sourced from second hand stalls, charity shops, auction houses, flea markets under bridges and book shops down winding lanes.
I love using materials that have a history to them and a lot of the designs in my business stem from this. The vintage maps that I use in my Keepsake Boxes, the novels in my Wedding Wreaths and the dictionaries and comic books I use all have their own stories that I think add an extra something to the finished piece.
The shelves in my studio are filled with boxes of slides, old film reels, clock movements. dried leaves, seed heads. All these things become a part of the process.
I have a mug obsession and understand that all tea breaks should include biscuits. This is simple fact.
I have a collection of cassette tapes. And I play them.
I would nearly always choose a good book over a good film
I always start my day with tea. I try to make it a herbal tea. But you really cant beat a cup of Barry's Tea to start your day.
I own more scissors than I do shoes
And If I could choose any job in the world I would choose to do exactly what I am doing now. But with better biscuits.
– Vanessa