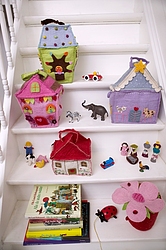 Sisters Guild is a place, a Guild, established by two creative sisters and mamas who wish to celebrate child and home. Our passion is finding the unique, the beautiful, the imaginative and the most wonderful things for your home, children and yourself.
We discover independent makers and designers from the UK and beyond to bring you a collection of pieces made with love and designed with longevity in mind. Be it bright and playful, soft and sumptuous, nostalgic, whimsical or full of quirky charm, it's all about celebrating the joy of the home and the imagination of childhood.
We hope to bring joy to gift giving and wave a big magic wand of wonder to your home. It is our pleasure to share with you all these treasures we find.
With a whisper of love and a soar of imagination.
Carla & Bekka
x