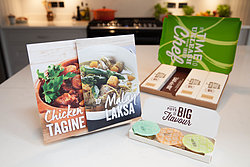 SimplyCook is an innovative new concept designed to make it easy to cook great food at home. SimplyCook recipe kits provide the taste, you just add a few fresh ingredients and follow the simple recipes.
The result? Restaurant quality meals in around 20mins!
Our vision is to help people cook great food at home. We believe that meal times should be shared and enjoyed, and not a hassle. We hope to succeed in offering real convenience with the quality associated with restaurant food, and we also want to help people discover how to cook new healthy dishes and grow their repertoire.
Our Ingredients - The Secret of SimplyCook.
Each SimplyCook meal kit includes 3 pots of 'hero' ingredients to give your meals great taste. The contents can include: culinary pastes, seasoning blends, stocks, garnish pots, infused oils, herbs, spices, marinades, coatings or rubs.
This is the magic of SimplyCook - natural ingredients blended in the precise quantities required to transform fresh, healthy food into a fabulous meal. Our chefs really have done the hard work for you. Just add the fresh components on our list, follow the simple steps and enjoy guaranteed results.