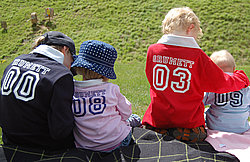 Simply Colors make great quality fun personalised clothing and accessories for babies and children. We are based in Bristol where we lovingly print your designs on to t shirts, rugby shirts, polo shirts, dresses, hoodies, bodies, towels and messenger bags and rucksacks.
All Simply Colors clothing is made from 100% luxury cotton and is machine washable. The clothing is excellent quality and the prints will stay put!
With our great colours and font styles you can really be creative with your designs, they are perfect for original gifts and equally as fun for children to design themselves.
Enjoy Simply Colors clothes and have FUN designing them!