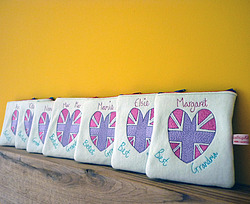 Seabright Designs is run by husband and wife team Simon and Lindsay Seabright. Through the use of freehand machine embroidery we create unique and personalised gifts tailored to your requirements.
Simon studied at Staffordshire university and acheived a 2:1 degree in design:surface pattern. He then went on to manage two retail outlets and has become well known for his creative work.
Some of our commisions include The Common Wealth Games, Viviene Westwood (cowparade) , Arts Council, Arts in Business, Crosby Homes, Worcestershire County Council, Manchester Art Gallery and Imperial Tobacco - amongst many others.
Our work has been published in a variety of magazines including The Big Issue, The Metro, The Guardian and The Evening Standard.