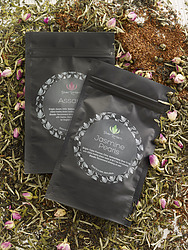 Silver Lantern Tea provides high quality loose-leaf teas and tisanes that have been specially chosen because of their great taste and large leaf appearance. Our products can be enjoyed on their own or blended together to create a variety of delicious tea blends.
Making your own tea blend is much easier than you think. Once you know what flavours you like, you can mix and match different teas to create a blend that suits you. For instance, if you love a strong, malty breakfast tea, why not create your own blend with extra Assam?
When it comes to tea blending, there really are no rules - part of the fun is in experimenting and finding new flavour combinations. Sometimes you'll come up with a blend that is just right, and sometimes you won't. But that's all part of the fun!
No special equipment is needed other than a teaspoon, tea pot and a desire to have a go!
Silver Lantern Tea is run by Rebecca from Surrey. Rebecca is passionate about tea and wants to bring tea blendology to fellow tea lovers!