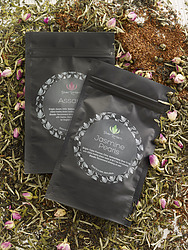 There's nothing quite like a cup of tea. As well as the warmth and comfort from a steaming cup, there's the pleasure that comes from the ceremony of making the tea. And all of this starts with preparing the tea blend.
Silver Lantern Tea is an independent, family business based in Surrey. Since 2012, Rebecca has been encouraging tea lovers to make their own bespoke tea blends. Instead of providing pre-blended teas, Silver Lantern provides a wide range of tea types that can be blended together at home to create much loved classic blends- such as English Breakfast- as well as new, unique combinations.
Silver Lantern Tea offers a wide range of award-winning teas including black, green, oolong, white and herbal teas. These teas can be enjoyed on their own or blended together. When it comes to tea blending, there really are no rules – part of the fun is in experimenting and finding new flavour combinations. Making your own tea blend is much easier than you think - why not make your own special blend today?