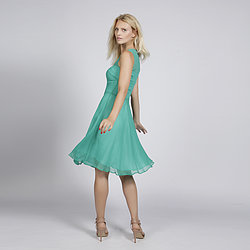 The modern woman has a modern lifestyle; where she juggles her work, family and social life with vast responsibilities. Often she may feel like being pulled in many different directions at once. Every now and then, she pauses to have some princess moments, beautiful yet effortlessly, luxury yet comfortable.
SILKLIS collection is designed with the modern princess in mind.
About SILKLIS - The Silk Boutique
SILKLIS is a London-based silk boutique that specialises in luxurious silk clothes and accessories. We put 'woven in luxury' on the labels, because it is our commitment to quality that sets us apart from other brands. Our silk is carefully sourced from South East Asia where local craftsmen have been weaving silk for thousands of years. All our clothes are individually handmade by local seamstresses in Vietnam. We build lasting relationships and work closely with them to offer you value and quality without compromising our integrity.
SILKLIS create beautiful, timeless pieces that are made to last from the finest silk. We believe in buying less and making sure that what you do buy is very special.
Sometimes there is no better way to capture a precious moment in your life than an individual garment created especially for you. For us, a bespoke garment is as much about the journey as it is the realisation of a beautiful fabric. We are delighted to introduce our bespoke service and hope to make the design process as interesting and enjoyable as possible for you. Tell us what you'd like to create in silk by selecting 'ask seller a question' button.