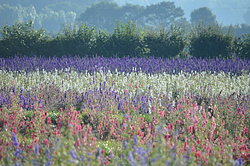 We grow biodegradable natural petal confetti, wheat sheaves and dried flowers all handpicked from our Shropshire farm.
Every summer we set to the fields cropping the land for only the most perfect petals ready for your wedding day, carefully drying and packing ready for shipping to weddings and occasions up and down the country.
In the early days Daisy Bubb used to dry flowers using her kitchen aga and sell them at WI markets, she just couldn't grow them fast enough! Daisy gradually took more and more of the farmland to grow flowers.
Nowadays Daisy's grandchildren Jim and John are at the helm of the business, looking after the land ready for the busy summer harvest and in 2005 Shropshire Petals was born!
The call for natural petal confetti began as churches and venues preferred it to the paper or synthetic confetti, as people became more environmentally conscious the demand for biodegradable natural petals increased.
All of our products are 100% natural, biodegradable and eco-friendly. They are all completely natural in colour and no dyes are ever added, everything is true to nature.