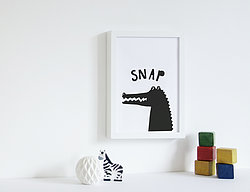 Hi I'm Emma and Showpony is the home of contemporary illustrated artworks for kids of all ages.
Showpony started as a home for all things textile design as my love for illustration and screen printing combined into a line of bags, cusions, tea towels and wheat warmers. Our products were printed and stitched by hand in our Glasgow Studio then sold all over the world.
Since having two children of my own I have fallen in love with creating artworks for kids (big and small) I love to see my wall art in nurseries and happy homes throughout the country.