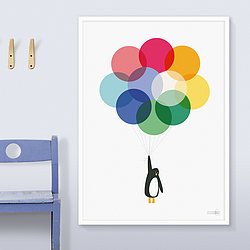 Welcome to Showler & Showler, we create & sell colourful prints, postcards & greetings cards to display on your walls & send to your friends!
We have lots of colourful designs for you to choose from, perfect as gifts or to hang on your walls in your home.
Our prints have been featured a number of times on the BBC TV show DIY SOS and other interior make over shows such as ITV's Cowboy Builders and 60 minute makeover.
We were named in the Telegraph in 2015 as 'one of the best brands to give your children's rooms a creative update.'
In 2016 we added a range of tote bags to our collection.
Our prints are lovingly printed to order in the U.K & frames to fit all of our prints can be found at Picture Frame Express & some frame sizes can be found at Habitat & Ikea.
Showler and Showler is a creative design partnership between Tom and Hannah Showler established in 2006.
We also run the busy graphic & web design studio called Rocket Base.