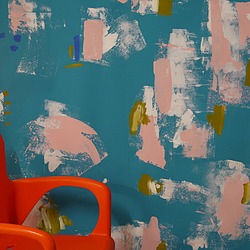 After finishing her MA at London's Royal College of Art, her first commission was an exciting project working with interior designer Stuart Walton for the home of Pamela Stephenson and Billy Connolly.
Screen printing and painting in her studio in Cheshire, Sharon has now launched a range of hand crafted wallpapers. They are printed to order and designed with inspiration taken from drawings and paintings produced in the studio.
The Sharon Jane wallpaper range contains designs to suit all homes. We can produce decorative panels that can be easily changed for those that are frequently restless for new interior trends.
The studio is renowned for their use of bold colours and graphic simplicity combined with traditional screen printing methods . The papers begin as paintings and ink sketches before they are translated into hand printed single panels or repeating elements.
They offer a complete bespoke service; from creating custom colour schemes to designing and producing co-ordinating accessories.