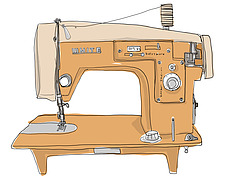 A mixture of fun, fabric or card combined to create eye catching original personalised pieces. Stitchery created from new and vintage textiles, free machine embroidery, applique, buttons, ribbons and charms all complimenting one another in a vibrant and jolly style and 'Handmade' to order.
And then came Greeting Cards, from fanciful idea to sketch book and then to print and all personalised of course. There is nothing more satisfying than seeing an idea come to life the way you imagined and very often hand finished.
My favourite things and passions combined, to create a colourful, playful and individual finished product.