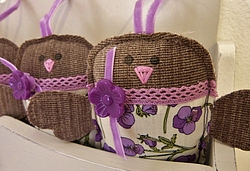 Hello and welcome to Sew Sweet Violet ~ My name is Jooles and I LOVE to create beautiful things just for you, so please make yourself comfy and take a look around!
I specialise in unique gifts, memory keepsakes and home accessories, each and every one being handmade by me in my sewing room in pretty West Sussex in the UK. I have always and forever loved to create pretty things, so this is my dream come true.
Sew Sweet Violet began in 2010 with me making personal, handmade gifts for the special people in my life, then friends began asking me to make gifts for the special people in their lives, and the whole thing kind of snowballed from there! I dabble in lots of different crafts, but my absolute passion is sewing.
I design and stitch all of my items with great care, each one is unique and original to me and made with love. I use only the highest quality materials and I am ever-so-slightly addicted to Liberty of London and Tilda fabrics ~ of which you will find LOTS here!