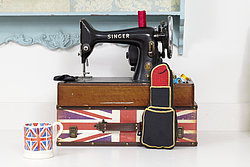 A talented designer, Emma started embroidering at the age of eight, spending many of her weekends with her mother at the Royal School of Needlework in Hampton Court Palace.
Starting the brand in 2012, Emma designs from our studio in London, and creates all of the first samples herself, by hand. Then we mainly produce limited edition runs of all our collections and because it is finished by hand, each bag is slightly unique.
Creativity has always been a major part of her life. Finding the right fabric or seeing rows and row of beautiful wools, silks and cotton – or even coming across an old button can be a major inspirations.
We are very proud of our British heritage.