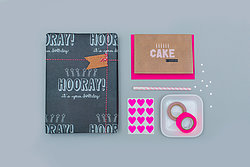 Welcome to Scissor Monkeys! Fun, modern, stand-out-from-the-crowd cards and paper goods from all around stationery geek, (me), Sandy Deasey.
I love chalkboards, kraft paper and have a bit of a washi tape addiction, and use these as inspration for my designs.
All my products are made in England, and designed by me in the heart of London. I love paper, and only use the best luxury-weight made in England paper for the cards, and 100% recycled paper for the wrap.
And I love brown paper packages tied up with string as much as the next girl, so I make sure the packaging is as cute as the design.
Enjoy! xo