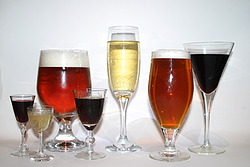 School of Booze celebrates what Dr Samuel Johnson described as life's second pleasure - alcoholic drinks. We produce and host fun and informative beer, cider, or wine tasting events for private groups.
During our entertaining tutorials you taste a variety of different beers, ciders, or wines, learn a plethora of useful facts about drinks and plenty of practical knowledge with which to impress friends. You also participate in a tasting challenge by matching tasting clues to the drinks. Prizes for the geniuses who guess correctly! Afterwards the group are graduates from the School of Booze with a certificate to prove it!
School of Booze was founded by Jane Peyton, Britain's Beer Sommelier of the Year, alcohol historian and author of several books about alcohol, architecture and British culture. School of Booze also produces themed music and dining events under a brand called Operalicious, for instance 'Rule Britannia' where diners consume food and drink popular in the 18th century and are entertained by a professional opera singer performing songs of the era. A Mistress of Ceremonies regales guests with fascinating information about 18th century life. Whenever possible, Jane Peyton will be the host of your event.