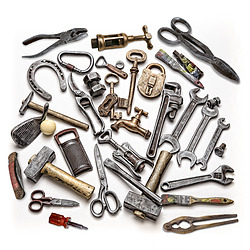 At Schokolat, we produce an amazing range of chocolate tools, kitchen utensils, garden tools, hobbies and household items.
The authentic chocolate tools and kitchen items look exactly like their metal and wooden counterparts and include the nicks, chips, scratches and aged look that are seen on worn tools and utensils. Made from the finest quality chocolate (60% cocoa solids), the products are hand crafted, helping to give them their authentic rustic and aged look.
Making the perfect gift, choose from individual products or make up your own gift selection of complementary products from one of the Schokolat collections: choose from the garden, kitchen/home, tool or celebration items.
The range contains over 30 items including: bottle openers, golf balls and irons, graters, hammers, horse shoes, keys, nuts and bolts, padlocks, paint brushes, pliers, nut crackers, secateurs, shears, spanners and many other items. What makes Schokolat unique is the ageing and worn effects that capture nicks, dents and scratches followed by a handmade carving and colouring process.