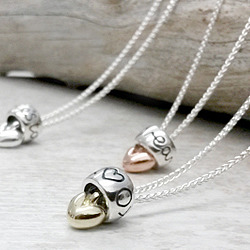 Welcome to Scarlett – we make meaningful jewellery to wear and treasure
Scarlett hand makes her silver and gold jewellery from a mews workshop in Hove. Our jewellery is exceptional quality and orders are beautifully packaged and delivered within a few short days.
We are passionate about offering meaningful jewellery to celebrate life's special moments. Our high finish and signature designs have many loyal followers, timeless classics you'll wear every day. Customers love the personal stories behind collections, many of which are explained by the keepsake meaning cards tucked inside the boxes.
Scarlett was founded by award-winning British designer Sarah Fenton in 1998. Scarlett was the first jeweller to be featured in Red magazine's shopping pages in 1999, and overwhelming customer requests prompted Sarah to develop the mail order side of the business.
Scarlett has been featured in Good Housekeeping, Elle, Country Living Magazine, Red, Woman & Home, and Vogue.com (see press comments) and we're proud others believe in us too.
HOW WE MAKE IT
Our jewellery is made in our workshop with love and the utmost attention to detail (studio visits can be made by appointment). Scarlett jewellery wears wonderfully well, creating signature classics with a timeless quality – jewellery you'll feel lost without.
FAST DELIVERY
We know you want it fast! We pride ourselves in offering speedy delivery and your order will arrive well under 5 days or you can choose express delivery if you need it faster.
BESPOKE DESIGN SERVICE
If you have an important deadline or any special requests on your order, just get in touch by clicking on the 'ask the seller a question' button. We're a small team and we pride ourselves on offering the highest levels of customer service.
We hope you'll enjoy browsing the collection and you find a special piece to love and cherish
Sarah and the Scarlett girls x