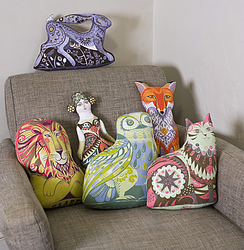 Hello, welcome to our shop.
We started out as a small travelling puppet theatre, and we've gone on from there. I am an illustrator, printmaker, designer and maker working from the south coast.
The tea-towels or cloth kits are four colour silkscreen prints on 100% cotton and can be used as tea-towels, or cut, simply sewn and stuffed to make lovely toys or cushions. You could also fill them with something heavier like bagged sand, dried beans,or rice, to make an attractive doorstop.
The prints are all relief or letterpress prints. They are all designed, hand cut and hand printed by us.
Thank you very much for looking.
Best wishes
Sarah