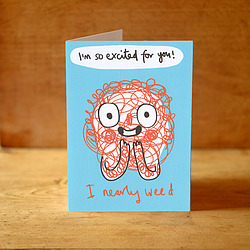 Sarah Ray's fun and whimsical illustrations offer something uniquely different.
She produces a range of greetings cards, prints and stationery that show an unusual take on life and its idiosyncrasies, to make anyone smile!
Sarah works from her studio in Bristol where she enjoys drawing for a number of clients on various illustration commissions. She started her card business after selling screen printed cards at markets and found that people really engaged with her drawings. Enthused and encouraged she developed her range and now has over 60 designs!
Growing up in the Herefordshire countryside on a small holding allowed her the freedom and space to develop a sense of humour which combines animal and human behaivour. She pours her personality into her drawings, embracing the quirkiness of life, to create work that is unique and fun!
Everything she sources is from the UK and a big effort is taken to ensure that her products are environmentally friendly.
Sarah has won Best new product in the Stationery & Greetings category in the Top Drawer London awards and was a finalist for her greeting cards at The Henries Awards.