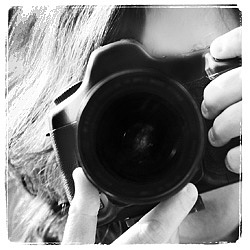 Sarah Loveland has been a professional photographer for 14 years and in that time has been asked to photograph many different subjects ranging from unusal pets to children with celebrity parents. Sarah has won awards for her baby and children's photography and believes that there is no better way of capturing memories.
Sarah has created a range of photography lessons in a box so that you can take great pictures. This is an informal and fun way to improve your photography. It's about having fun with the camera that you own and getting the best out of it. Once you've learned how to take better pictures it is a skill that you'll have for life!
In the boxes there are four lesson cards, four fun tasks for you to try and four little card frames for you to create you own masterpieces. Also included is a miniature display easel for you to show off your pictures.
This is a fun and friendly way of helping you to take better pictures. It's a fantastic gift with a difference because it is teaching a skill that the recipient can use for years to come. The most important thing is to have fun with it!
In addition to the photography lessons in a box range there is also a selection of Sarah's favourite images. Sarah shoots on tradition film and using digital cameras. The images are printed on archival fine-art watercolour paper, giving the images more depth and feeling.
If you need inspiration for your own photography our new challenge packs are just the thing to help you get more creative with your photography.