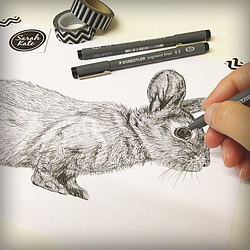 Welcome to The Sarah Kate Company on notonthehighstreet.com!
I'm Sarah Kate, I'm an Architect, Artist, and Designer.
I love to draw inky wildlife and everyday objects. My signature style pen and ink illustrations are available to buy as prints and cards, from the The Sarah Kate Co. storefront.
My love of all things cake-related lead to the creation of The Cakesmith product range which includes non-edible Cupcake Toppers, Cake Decorations and Cupcake Kits which give your cakes and cupcakes the added wow-factor without the need to be a sugarcraft whizz! It's quick and easy to create impressive cakes and cupcakes just by adding decorations from The Cakesmith product range.
I am constantly dreaming, scheming, planning, thinking, designing, making and doing, so I am always coming up with new design ideas and products for you to enjoy. You can view my designs by clicking on the product images below.
I welcome feedback and I am always happy to answer queries or offer advice on my products, so please do feel free to get in touch!
Sarah Kate
x