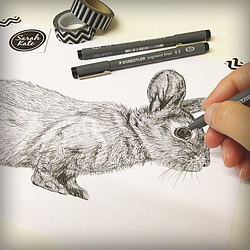 Welcome to The Sarah Kate Company on notonthehighstreet.com!
I'm Sarah Kate, I'm an Architect, Artist, and Designer.
I love to draw inky wildlife and everyday objects. My signature style pen and ink illustrations are available to buy as prints and cards, from the The Sarah Kate Co. storefront.
I am constantly dreaming, scheming, planning, thinking, designing, making and doing, so I am always coming up with new design ideas and products for you to enjoy. You can view my designs by clicking on the product images below.
I welcome feedback and I am always happy to answer queries or offer advice on my products, so please do feel free to get in touch!
Sarah Kate
x