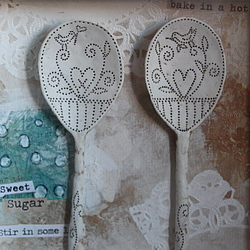 Sarah Jones-Morris Ceramics began when I completed my ceramics degree in 2001. Since then I have continued to work creatively as well as working as an art technician in a school.
I have designed and created a collection of ceramic spoons, inspiration has been drawn from my welsh heritage and the tradition of giving hand carved love spoons as a token of love and affection. Each spoon is modelled by hand and then embellished with surface pattern before being fired, then glazed and fired again.
The spoons are sold individually or displayed in decorated box frames.
There is also the option to have the spoons personalised, creating an individual and unique gift ideal for weddings, anniversaries, christenings, birthdays and many other occasions.
My collection also includes a range of porcelain tea lights, each one handmade and unique. Choose from antique lace or dotty design. Both produce a lovely effect when lit from within and look beautiful displayed in the home.
I also have a selection of smaller items available which include decorative ceramic love hearts and birds, which can also be personalised. An ideal smaller gift or decoration for the home.