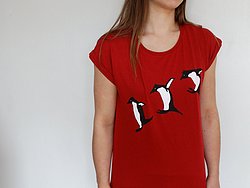 We are moving studios this week and so wont be despatching any orders until Febuary. Based in a studio in cockpit arts in central London, Sarah J Miller began as a ceramic design company who make christmas tree decorations in very thin porcelain.
Since then we have expanded into other materials. We still design and produce work in our studio, which is why it may take us a little time to reply to messages. Apologies if you have to wait a few hours for a reply but we are probably have our hands in clay.
All the writing that appears on our work is written by our founder sarah j miller, from the decorations to our witty t-shirts.
We can't make everything ourselves and so get some of our work made in the potteries in stoke. The only things that aren't made in the uk are our fabric products and these are all printed and some assembled in this country.
Apologies but we don't produce bespoke pieces.