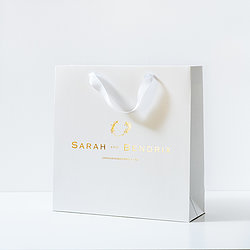 Sarah & Bendrix is a small design studio based in Surrey, United Kingdom. est. 2009 by Veronika. We enjoy making our products which are individually crafted and we sell items from other small independent designers. Our signature products are personalised collections for weddings, anniversaries and children including framed pictures, posters, paper products, clothes and an amazing assortment of wooden toys. We offer all the finishing touches, such as cards, gift boxes, and luxury gift bags. Making finding the perfect gift easy.
We believe that the best gifts are made with care and chosen thoughtfully. That even a simple detail can bring a smile to your face and remind you of special moment. This idea is carried though our design, celebrating simple & beautiful.
The name was inspired by one of Veronika's favourite books and film 'The End of Affair'. At the heart of the this love story are two main characters Sarah & Bendrix. It is a tale that fits our shop perfectly, romantic but not too sweet.