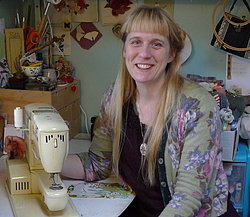 Welcome to Sam Peare Textiles. Originally started in the creative town of Hebden Bridge in West Yorkshire in 2005, Sam Peare Textiles has since spread it's wings and settled in it's new home on the Isle of Skye in Scotland. Here, from her lovely rural textile studio, designer Samantha Peare creates original textile designs which she turns into a range of covetable accessories and homewares. Sam's original vision to create products that are sustainable, beautiful and made to last still holds true today.
Inspired by the natural world around her, Sam's distinctive embroidery designs are created using a combination of applique, free-machine and hand embroidery techniques. The free motion embroidery technique enables Sam to use the sewing machines needle like a pencil and 'draw' designs with the thread, which creates a lovely sketched effect. These individual designs are skillfully combined with vintage, recycled and new materials to create artful and unique pieces to treasure.
The Sam Peare Textiles range features these beautifully embroidered designs of subjects including birds, butterflies and bees as well as woodland and seashore fauna and flora. Which adorn carefully hand made purses, bags, cushions, lampshades, jewellery, framed pieces and more.