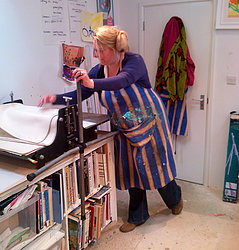 Blessed with a large sense of humour and a quick drawing hand, Samantha's work is light-hearted and full in detail. Samantha's main passion is drawing and here you will find her animal prints, which are testimony to her love of line.
Trained at Edinburgh College of Art, Samantha has been a practicing artist for over 20 years. Her main achievements include a solo show in Harrods, a super-large online following, fantastic art workshops and a small handful of awards. She lives with her husband, two children and Barney the dog.
I am passionate about drawing and can often be seen on the floor of the Natural History Museum drawing the animals, come and say hello - I'll be the one covered in charcoal!