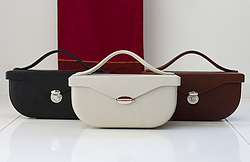 My name is Suzanne and I am the creator of Saffron Sacks, a recently established company based in South London providing hand crafted luxury leather and suede handbags. I specialise in evening and occasion wear in the form of the structured bag using a box moulded technique that I have pain-stakingly studied and developed over the past several years. Aesthetically this technique provides a sleek stitch free construction enhancing the overall appearance of sculptural clean lines and the general feel and look of a quality hand crafted design.
Typically understated yet classically iconic, my bags are individual and highly distinctive. Inspired by my lifelong passion for the 40s and 50s, I strive to recreate the simplistic detailing that is synonymous of this stylish fashion era. Add to this a few quirky design features and you have a wonderfully unique bag that will remain fashionable and transcend any high street trend. Occasionally within my range, I do include less formal designs, totes, duffel bags and satchels.
I do not follow seasonal vogue. My collection is forever evolving and will echo my personal interests in highly individual design, so you can be assured of something interesting if you regularly visit my site. Whether you have a passion for great design and quality or are simply looking for that special gift for a loved one, my wish is that you derive as much pleasure from one of these bags as I do in crafting them.